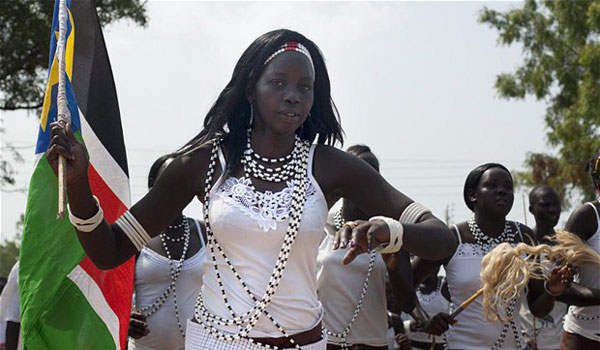 Africa's newest state, South Sudan, marks its third birthday today.
But the festive scenes that captured the historic birth are overshadowed by the escalating violence.
UN Secretary-General Ban Ki-moon on Tuesday called on the leaders of South Sudan to stop the conflict, which he described as "a man-made crisis", urging a resumption of negotiations immediately.
Ban recalled the hopes and expectations of the South Sudanese people when their country was established on 9 July 2011.
Those hopes were dashed by the conflict that broke out in December, which Ban said has seen the killing of thousands of South Sudanese and atrocities committed against civilians.
The world's youngest country has been thrown into turmoil since December, when political infighting between President Salva Kiir and former Vice President Riek Machar turned into a fully-fledged conflict.
According to the UN, escalating violence has since then uprooted some 1.5 million people and placed more than seven million at risk of hunger and disease.
"Their livelihoods have been lost and they are plagued by hunger, disease and insecurity."
Ban reminded the leaders of South Sudan that this was a man-made crisis.
"It is their responsibility and within their power to stop it," he said, calling on them to live up to the expectations of their people and lay down their arms and return immediately to the negotiation table.
Ban also reassured the people of South Sudan that the UN stands with them and will continue to make every effort to provide them with protection and humanitarian assistance.
Meanwhile, the UN Children's Fund and the World Food Programme are stepping up joint missions to reach desperate people in remote areas of South Sudan where the number of children at risk of death from malnutrition-related causes has increased dramatically and a hunger catastrophe is looming.
An estimated 235 000 children under the age of five, will require treatment for acute malnutrition this year – twice as many as last year, according to the agencies.
The situation is most dire in Jonglei, Unity and Upper Nile states, where data indicates as much as 60% to 75% of the population is severely food-insecure.
"Many people driven from their homes have to walk for days with nothing to eat before they reach towns like the state capital of Bentiu in the hope of finding assistance. Some of them, particularly children, arrive so badly malnourished there is nothing that can be done to save them," said Jonathan Veitch, UNICEF Representative in South Sudan.
"We must reach the remote populations with essential supplies and services to spare them that perilous journey." – SAnews.gov.za