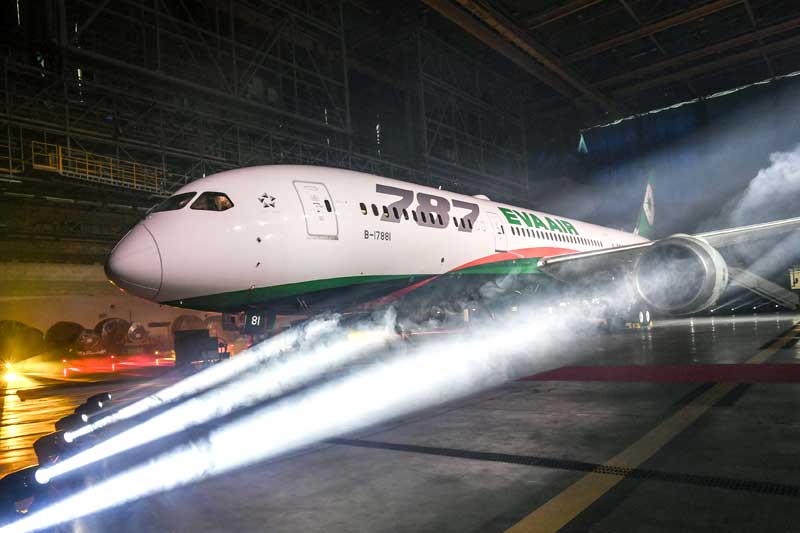 Taiwan – EVA Air, Taiwan's leading independent carrier, showcased its first Boeing 787-9 Dreamliner in a grand debut event at Evergreen Aviation Technologies Corporation, Taiwan, this week. Hosted by EVA Air Chairman Steve Lin, the event welcomed 400 special guests from Taiwan's aviation authorities, travel agencies and air cargo freight forwarders, as well as EVA Air social media fans and valued employees.
Debut Event Combining Art and Technology
During the event, EVA Air introduced its first Dreamliner with a spectacular sound and light show. Using advanced 3D projection technology, EVA Air created a 360-degree cinema inside a tented structure. The four walls and ceiling of the tent were used as projection screens for a sophisticated animated film and served as the backdrop for an interpretive dance performance. The film and performance highlighted the upgraded inflight experience onboard EVA Air's 787-9 Dreamliner, as well as the airline's five-star services and brand.
EVA Air's 787-9 Dreamliner – The Smile in the Sky
In addition to the performance and show that accompanied the Dreamliner debut, EVA Air premiered its new Dreamliner commercial film. Taking the smile-like curve of the aircraft's wings inflight as its theme, the film utilises the smiling shapes of movement, cultural images, architecture and natural landscapes to tell EVA Air's Dreamliner story. The theme not only symbolises the aircraft's design but also represents passengers' heartfelt smiles as they sit back, relax and enjoy comfortable flight experiences onboard EVA Air's new 787-9 Dreamliner.
EVA Air chose elements of light, air and water to focus attention on the advantages that Boeing 787-9 Dreamliner passengers enjoy. Light emphasised the windows that are the largest available on any aircraft and even allow passengers in the middle seat to enjoy the views. Air accentuated the optimised cabin pressure that serves to reduce jet lag and fatigue and is made possible by the composite construction of the fuselage. Water underscored the humidity inside the cabin that is three-to-four times higher than it is on other aircraft, providing better hydration and making passengers more comfortable.
EVA Air's first Dreamliner
EVA Air expects to put its first Dreamliner in service this November, following the finalisation of preparations and certifications. Initially, EVA Air will deploy the Dreamliner on the popular Taipei – Hong Kong route. In December, following the delivery of EVA Air's second Dreamliner, the airline will extend the plane's services to Osaka and Tokyo. EVA Air expects to take delivery of two more Boeing 787-9s in 2019 and aims to use them on flights serving Australia and Europe.
EVA Air Chairman, Steve Lin, said: "We plan to introduce four 787-9s and twenty 787-10s. We will take delivery of our second 787-9 this year and begin introducing the 787-10s in the second quarter of next year. We expect to have all 24 Dreamliners in service by 2022. EVA Air is using the Dreamliners to refresh our fleet. For us, the addition of the technologically-advanced Dreamliners demonstrates EVA Air's capacity to sustain steady growth and continue to upgrade our service quality."
EVA Air chose Designworks, a BMW Group company, to synchronise the airline's international brand image and the Dreamliner's unique craftsmanship into the design of this latest generation of Royal Laurel Class seats. The design team stepped away from conventional aircraft design and used core concepts of space and brand to create tailor-made business class seats seamlessly integrated into a bespoke cabin environment. The team used mature, muted colors to enhance the feeling of a comfortable, spacious environment.
EVA Air called on the Boeing Company's long-time working partner, Teague, to completely redesign Economy Class on its new 787-9 Dreamliners, and selected ergonomically designed economy class seats from RECARO, the well-known German Automotive Seating company, creating a cabin that is exquisitely elegant.
The Boeing 787-9 Dreamliner has a maximum full-load range of 7,100 nautical miles and can fly nonstop from Taiwan to Vancouver, Seattle, Vienna and Brisbane. The plane is configured for 304 passengers in two cabins, including 26 seats in Royal Laurel Class business and 278 in Economy.