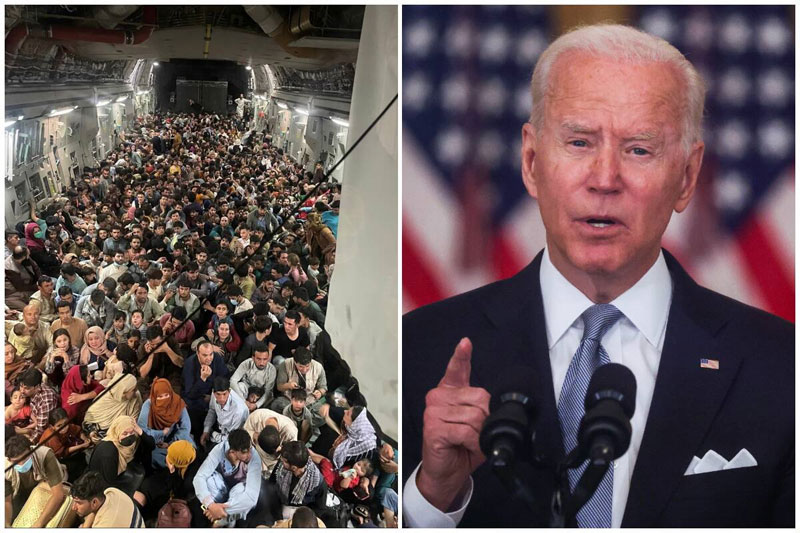 Evacuees crowd the interior of a U.S. Air Force C-17 Globemaster III transport aircraft, carrying some 640 Afghans to Qatar from Kabul, August 15, 2021
Gorbachev says the U.S. campaign in Afghanistan was doomed from the start
Afghanistan
Military flights evacuating diplomats and civilians from Afghanistan resumed after the runway at Kabul airport was cleared of thousands of people desperate to flee, a day after chaotic scenes in which U.S. troops fired to disperse crowds and people clung to a plane as it taxied for take-off.
President Joe Biden said he stood "squarely behind" his decision to withdraw U.S. troops and blamed the Taliban's takeover on Afghan political leaders who fled the country and the unwillingness of the U.S.-trained Afghan army to fight. But frustration is growing in Washington over the handling of evacuations.
Jill Stephenson lost her only child Ben Kopp, a 21-year-old U.S. Army Ranger, when he was shot during a 2009 firefight with Taliban forces in Afghanistan. For her, the militant group's takeover of Kabul came as a gut punch.
Now the U.S. is gone for good, China could be sucked into the quagmire the Americans just escaped, says Breakingviews columnist Pete Sweeney.
Mikhail Gorbachev, the leader who oversaw the withdrawal of Soviet forces from Afghanistan in 1989 after Moscow's failed decade-long campaign there, said that NATO's own deployment to the country had been doomed from the start.
We look at how the Taliban's rapid takeover poses a new challenge for social media companies on handling content created by a group considered to be terrorists by some world governments.
A man in a face shield and protective mask stands amongst attendees at 'It's Time for Hip Hop in NYC', part of the NYC Homecoming Week concerts, in the Bronx, New York City, August 16, 2021
news by REUTERS
image for editorial purposes only