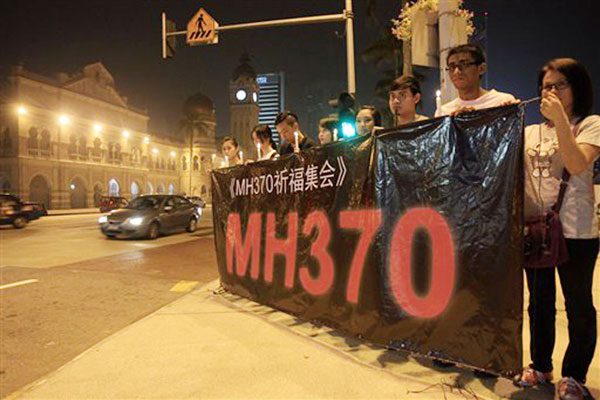 Kuala Lumpur – More countries have been asked to join the hunt for a missing Malaysian jetliner as the search area was expanded across a vast arc of land and ocean
The Malaysian government has asked 11 more countries for assistance and received "unprecedented" positive responses, acting Transport Minister Hishammuddin Hussein told reporters.
"The number of countries involved in the search and rescue operations has increased from 14 to 25, which brings new challenges of coordination and diplomacy to the effort," he said after a week-long multinational hunt for the missing passenger jet, carried out mainly in the South China Sea.
Flight MH370 went missing early last Saturday morning with 239 people on board en route from Kuala Lumpur to Beijing, sparking a massive search involving more than a dozen nations.
Malaysian officials have uncovered new data on the possible flight path of MH370 that point to two new corridors, Hussein said.
The new search areas announced on Saturday encompass a northern corridor stretching approximately from the border of Kazakhstan and Turkmenistan to northern Thailand, as well as a southern one from Indonesia to the southern Indian Ocean.
"We are now looking at large tracts of land crossing 11 countries as well as deep and remote oceans," he said.
Hussein said Prime Minister Najib Razak had also spoken with leaders of India, Bangladesh and Turkmenistan to ask them for help in the extended search.
Malaysia also requested the United States, China and France to share more satellite images along with many other countries.
"We are contacting additional countries who may be able to contribute specific assets. These assets are particularly needed to cover the vast areas of the southern search corridor," Hussein said.
He said both corridors will be treated with equal importance, adding that Malaysia is still in discussions to decide how assets provided by friendly countries will be used.
Hussein said authorities would continue to analyze the backgrounds of the passengers and crew members with the help of international intelligence agencies.
Earlier in the day, Malaysian Airlines said the plane's pilot and co-pilot did not request to fly together, dismissing speculations of a pre-planned hijack attempt by the two people.
Reports say Zaharie Ahmad Shah, the 53-year-old captain of the flight, has more than 18 000 hours of flying experience and is keen on cooking and had great enthusiasm for flying. While family and friends of Fariq Ab Hamid, the 27-year-old co-pilot, said the man was religious and serious about his career.
In Paris, France's Bureau of Investigation and Analysis said three of its staff members are flying on Sunday to Kuala Lumpur at Malaysia's request to participate in the search for the missing plane.
The agency said in a statement that the experts will help Malaysian authorities examine and analyze available data on MH370. – SAnews.gov.za-Xinhua