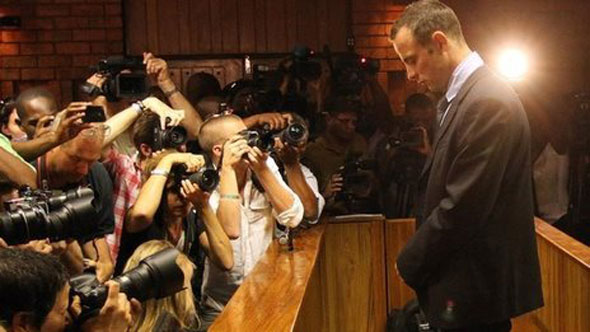 South African paralympian Oscar Pistorius goes on trial today for the murder of his girlfriend Reeva Steenkamp.
The 'Blade Runner' is accused of murdering Steenkamp on Valentine's Day last year at his home in the east of Pretoria.
He claims he mistook her for an intruder.
Media interest has grown significantly for the case which will be heard by Judge Thokozile Masipa at the North Gauteng High Court.
Several local and international media houses are stationed at the court for what has been labelled the trial of the century.
Part of the trial will be televised with conditions after Judge Dunstan Mlambo last week approved an application to film the proceedings that was brought by news channel eNCA, joined by media houses MultiChoice and Eyewitness News.
Media will be allowed to broadcast the opening argument for the State and defence, expert evidence, testimony of police and all consenting State witnesses
He said there will be no close ups and recording of private conversations.
Mlambo permitted the use of small, unmanned spy cameras to be fitted in the courtroom. The cameras will be installed where they will not interfere with proceedings.
There will be no recordings of personal legal discussions and no recordings when court is not session. – SAnews.gov.za