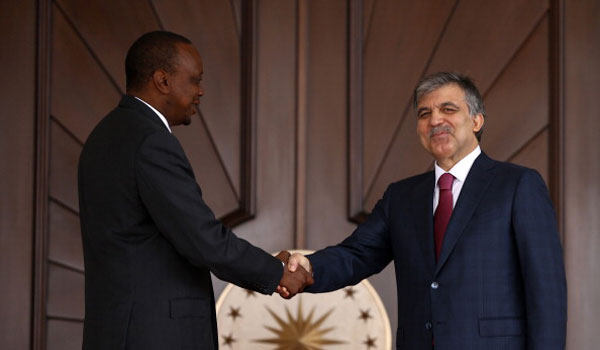 Ankara – President Uhuru Kenyatta has witnessed the signing of nine bilateral agreements on trade and security with Turkey after holding talks with Turkish President Abdulla Gul in Ankara.
President Kenyatta also held talks with Turkish Prime Minister Recep Tayyib Erdogan and the Speaker of the Turkish Parliament, Cemil Cicek, telling them that Kenya was open for business and co-operation on international issues.
President Kenyatta told a media conference at the Presidential Palace on Tuesday that the main purpose of his state visit to Turkey was to deepen ties between the two countries and create the right environment to benefit the public and private sector in both nations.
During the meetings in Ankara, the leaders discussed issues of security and defence and agreed that the threat of terrorism is a global problem and not exclusive to isolated countries.
The agreements signed covered development of Small and Medium Enterprises (SMEs), technical and financial co-operation, education, culture, mass media and youth, security co-operation, energy and hydrocarbons.
President Gul described Kenya as a country which occupies a reputable position in Africa, noting that the last elections held in Kenya were a triumph for democracy, an environment which has increased Turkey's engagement with Kenya.
Earlier, President Uhuru laid a wreath at the mausoleum of Mustafa Kemal Ataturk, the father of modern Turkey. He also visited the Organized Industrial Zones in Ostim and Sincan and is expected to attend business meetings in Ankara and Istanbul on Thursday. – SAnews.gov.za-NNN-KBC