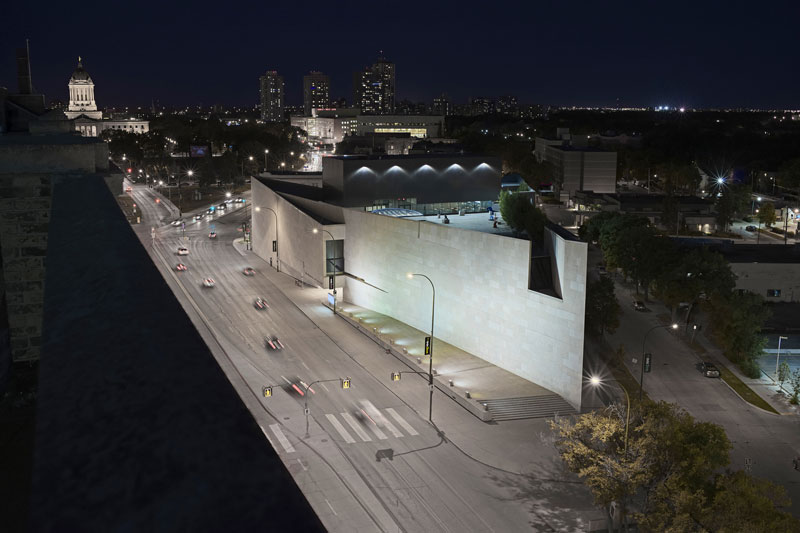 There's a strong argument for yes – an approach anchored by a sense of place, strong influences from nature and culture, and a commitment to sustainability. Reflecting the land: Whether a pair of tree-inspired skyscrapers in Vancouver, BC, a landmark library-in-nature in Ottawa, Ontario, or an Inuit art centre in Manitoba capturing an aesthetic that honours the landscapes, lights and people of the North, Canada's architecture is bold yet exquisite, inviting yet powerful, functional while telling a fascinating story about the land and its people.
Is there such a thing as uniquely Canadian architecture?
Innovative designers: Indeed, some Canadian architects have achieved celebrity status worldwide for their arresting designs, which channel fierce national pride while striving to shock, awe and shift perceptions. Frank Gehry is perhaps the recognized architect from Canada, a Toronto native whose global works include the Art Gallery of Ontario, which The New York Times called a "crystal ship drifting through the city." Moshe Safdie, a Quebec native, blends idealism with innovation to create eye-popping designs like Montreal's futuristic Habitat 67, a minimalist fantasy consisting of 354 modules stacked atop each other. The late Bing Thom was another legend, famed for designing some of Canada's most notable buildings, including Vancouver's enchanting Chan Centre for the Performing Arts.
Toward a greener aesthetic: Alongside innovation, Canadian architecture is renowned for advancing sustainability – just look at the Vancouver Convention Centre, the first double LEED Platinum-certified convention centre in the world, whose six-acre living roof, restored marine habitat, and seawater heating and cooling system barely scratch the surface of the venue's environmental capabilities. In the words of Frank Gehry: "Architecture is a small piece of this human equation, but for those of us who practice it, we believe in its potential to make a difference, to enlighten and to enrich the human experience, to penetrate the barriers of misunderstanding and provide a beautiful context for life's drama." Canada's architecture strives to embody Gehry's words – and, in doing so, cultivate healthier, more sustainable and aesthetic spaces for everyone.
Inspiring meeting spaces: Many of these remarkable buildings and spaces are also accessible for business event gatherings, from small meetings to plenaries, entertainment venues and incentive programs. Pre-COVID, business events were a thriving part of Canada's tourism industry, contributing $33 billion in direct spending, $19 billion in GDP and directly employing 229,000 people.
Upcoming debuts in Nova Scotia: From a luxury mixed-use development inspired by the region's maritime history in Atlantic Canada, to affordable cohousing, the province pioneers culturally significant architecture.
Opening in summer 2021 is The Muir, Marriott's first Autograph Collection hotel in Atlantic Canada, and Halifax's first five-star hotel. The 110-room property is part of Queen's Marq, a $200 million mixed-use development along Halifax's historic waterfront. Evoking the seafaring essence of Nova Scotia, it features an arresting art installation as an homage to the iconic Sambro Island Lighthouse guarding the entrance to Halifax Harbour.
– The new Art Gallery of Nova Scotia will welcome guests with a powerful symbol of Mi'kmaw culture when it opens along the Halifax waterfront in 2025. The design, rooted in sustainability and culture, incorporates a peaked-hat shape at the building entrance, reminiscent of the traditional headdress worn by Mi'kmaw women. The design, by KPMB Architects, was selected by an international jury that included a Mi'kmaw elder.
– Solterre Design, a Halifax-based architectural firm specializing in green design, has erected an off-grid house on the province's South Shore incorporating photovoltaic panels, energy-efficient lighting and a living roof. The owner-architects live aligned with their architectural vision, using salvaged and recycled materials, employing solar energy and planning their activities around available battery power.
– In Bridgewater, the new Treehouse Village Ecohousing project introduces Atlantic Canada to cohousing, which combines the autonomy of private dwellings with the advantages of community living. Each of the project's 30 homes is designed to Passive House standard, an energy-efficient construction method that eradicates the need for conventional heating and air conditioning systems.
Sustainability in action in Ontario: The province is a bastion of sustainable design, from Passive House buildings (which use up to 90 per cent less energy for heating and cooling and produce fewer greenhouse gases) to an innovative city of the future.
– Come 2024, the new Ottawa Public Library will marry two public institutions – OttawaPublic Library and Library and Archives Canada – in an architectural marvel inspired by the city's history and natural beauty. Features include numerous shared spaces, including outdoor areas, a gallery for rare and unique collections, and an attentiongrabbing entrance plaza. Renderings reveal unparalleled views of the Ottawa River and Gatineau Hills, while the stone and wood exterior merges with the surrounding green space. Universal accessibility (meaning that products and services are for all, regardless of ability) is integral to the building's design, intending to be the most accessible building in the region; the facility is also set to achieve, at minimum, a LEED Gold certification.
– Designing to Passive House Standard is difficult enough, but try designing social housing on a tight budget to the same standard. Ontario-based Invizij Architects and Emma Cubitt did so in McQuesten Lofts, a 50-room residential building in Hamilton developed to address homelessness. Among the colourful building's sustainable features is a boxy design, which is relatively cheap to build and operate; and a 46-kW photovoltaic array, which converts solar energy into direct-current electricity.
– Toronto-based architectural firm Partisans wants to transform Innisfil, a rural farming town, into a smart city of the future called the Orbit. The envisioned community – inspired by the vision to construct a "next-generation transit hub" – will marry rural lifestyles with urban living benefits. Innovations include a network of fibre-optic cables that integrates streets and infrastructure with the internet and motion detector sensors;
driverless cars; drone ports for last-mile delivery; and green rooftops.
Modelling the future in Quebec: Constructing cities of the future and designing buildings that evoke emotion are mere samples of Quebec's pioneering architecture.
– Proposed by Montreal architect Gilles Gauthier, the Linear City envisions a transition to constructing in height rather than width, recreating a sprawling city's sociological benefits within a smaller footprint. According to his theory, building towards the sky translates to more efficient transportation, improving quality of life and reducing environmental impact. He designed Linear City buildings as ecosystems, with each floor providing different services, and rooftops containing parks, restaurants and bars.
– This spring, Marriott opens Humaniti Hotel Montreal, an Autograph Collection hotel, with bold architecture and interiors designed as emotive, free-flowing spaces. The zen-like ecosystem encompasses a fitness centre with equipment crafted from renewable wood; spa treatments employing vegan products; and the signature h3 restaurant sourcing from Quebec artisans and winemakers.
Partnering with nature in British Columbia: Home to North America's first Passive House building and an award-winning museum designed with deference to its artwork and natural backdrop, the province has earned a reputation as a leader in sustainable architecture.
– Located in Revelstoke, BC and designed by Squamish-based Stark Architecture, North America's first Passive House certified building sits in the downtown core amid heritage era low-rise buildings. Floor and roof panels use Lignatur timber systems, while wood fibre insulation was used to build rapidly and to achieve Passive House goals. The ground-floor storefront will house the adventure bike shop Tantrum Ride Co.
In Whistler, the Audain Art Museum, designed by Vancouver-based Patkau Architects, establishes a sense of place and history that has earned multiple architectural awards. Set amid pristine forest, the pitchedroof structure is accessed by an elevated glass walkway that brings the outdoors in.
Balancing the museum's modern aesthetic is its functionality; for example, the building is raised a full story above the ground to avoid the floodplain of a nearby creek and mitigate the effects of the area's annual snowfall.
Vancouver architect Michael Green is at the vanguard of the movement to incorporate advanced wood products and technology into city architecture – in fact, he presented a TED Talk in 2013 that campaigned for global adoption of tall (up to 30 storeys) woodframed skyscrapers, using a model that employs sustainable forestry. Offering ecofriendly alternatives to steel and reinforced concrete, mass timber construction – which can actually reduce and sequester carbon dioxide emissions in the environment – is prolific in BC, with more than 370 buildings employing the material. One notable example is the Brock Commons Tallwood House at the University of British Columbia, which, when completed in 2017, was the tallest wood building in the world.
Inuit art form in Manitoba: In February, Winnipeg unveiled the $65 million Qaumajuq (formerly known as the Inuit Art Centre), housing the world's largest collection of Inuit art. Part of the Winnipeg Art Gallery (WAG), the centre – anticipated to position Winnipeg as a leader in the Indigenous art form – bridges Canada's North and South with a 14,000-piece collection showcased in a 40,000-square-foot space. It's an aesthetic influenced by the landscapes, light and peoples of the North.
Mid-century glam in Newfoundland: Considered one of Canada's best-preserved examples of modernist architecture, Gander International Airport achieved global fame as the setting of the Broadway musical Come From Away, which shares the true story of a town that warmly welcomed 7,000 airline passengers following the September 11, 2001, terrorist attacks. Gander airport's exquisite modernist lounge – decorated with murals, sculptures and colourful mid-century furniture – preserves the onetime glamour and elegance of air travel. The airport is undergoing a $1.5 million restoration that will reintroduce it as an attraction, to the delight of locals and visitors familiar with the musical, or to those interested in the ever-popular mid-century modern aesthetic.
Arctic aesthetic in Nunavut: Iqaluit's St.Jude's Anglican Cathedral, designed by Ron Thom, updates a traditional Inuit building form – an igloo – and abstracts it with radial glulam beams rising to a single skylight at the apex, all while retaining emotional resonance. The Gordon Robertson Education Centre, designed by PGL Architects, employs a windmill-shaped design that combines high tech with innovative building plans. Both have inspired the Canadian High Arctic Research Station (CHARS) in Cambridge Bay, designed by EVOQ. The largest educational and research building in the Canadian Arctic, CHARS is as much a community science centre as a research station for innovation in Arctic science and technology. It's a notion reflected throughout the hybrid building, which incorporates the northern culture so extensively that local hunters and elders were interviewed about wildlife and landscapes during planning and construction.
Climate action on Prince Edward Island: The province's ambitions to become the first in Canada to reach net-zero emissions by 2040 have inspired sustainability efforts, including a first-of-its-kind climate research centre designed by Baird Sampson Neuert Architects and SableARC Studios. The net-zero energy-use Canadian Centre for Climate Change and Adaptation, part of the University of Prince Edward Island, will debut in 2021. Students attending the school can graduate with a Bachelor of Science in Applied Climate Change and Adaptation – the only degree of its kind in the world. The facility will also serve as a living laboratory for wetlands, forests and coastal habitats directly affected by climate change.
Photo Credit : Winnipeg Art Gallery, Tourism Winnipeg