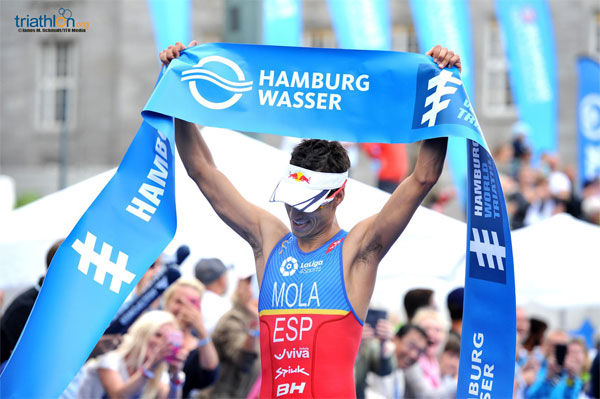 HAMBURG, GERMANY – Thousands of people shut down the city of Hamburg to line the streets and watch the world's fastest triathletes compete at the 2017 ITU World Triathlon Hamburg.
Flora Duffy, Mario Mola win WTS in Hamburg
The fifth stop of the 2017 Series was a historic one as Bermuda's Flora Duffy won her first-career WTS sprint distance race and Spaniard Mario Mola became the first man to repeat a win at the Hamburg venue.
WOMEN'S RECAP
It is hard to believe that Flora Duffy (BER) had to miss the first two races of the World Triathlon Series due to injury as she continues to be unstoppable after earning her third straight victory of the season at the 2017 ITU World Triathlon Hamburg.
Collecting her first-ever sprint distance win, Duffy executed a breakaway performance that brought her into the finish line without a challenger in sight to earn her fifth WTS victory in her career.
Duffy said, "I really actually can't believe it. Coming into the third race I felt a lot of pressure, especially it being a sprint and in Hamburg, I have not raced here in years. So, I just really had to go for it, I tried to race fast from start to finish and I had to make the most on the bike because I knew that my run pace speed was not at the same level as some of the top runners are, so I just took a chance and luckily it worked out."
"I came out of the swim a little further back than I wanted to so I just really hammered the first part of the bike and I knew the chute was quite technical so I knew if I just hammered that into transition I would be ok. We were able to breakaway three of us, we were working ok, I was getting a little frustrated though so I thought I would attack and go solo and that ultimately made the race for me."
The silver medal went to Aussie Ashleigh Gentle, who picked up the fastest run split time of the day (16:10) after the swim put her in a position where she needed to come from behind to get in the podium mix. The podium was finished then by Germany's own Laura Lindemann who at a sprint finish on the blue carpet earned her a first-time WTS medal in front of a home crowd.
2017 ITU World Triathlon Hamburg – Women's Results
Results: Elite Women
1. Flora Duffy BER 00:59:00
2. Ashleigh Gentle AUS 00:59:31
3. Laura Lindemann GER 00:59:41
4. Katie Zaferes USA 00:59:42
5. Jolanda Annen SUI 00:59:49
6. Andrea Hewitt NZL 00:59:52
7. Renee Tomlin USA 01:00:03
8. Charlotte McShane AUS 01:00:05
9. Kirsten Kasper USA 01:00:05
10. Rachel Klamer NED 01:00:06
MEN'S RECAP
Becoming the first man to ever repeat a win at the venue, Spaniard Mario Mola captured his fifth career sprint distance victory at the 2017 ITU World Triathlon Hamburg.
Surviving and conquering a mass pack that lasted throughout the race, Mola earned his win on the run, where he eased on by his competition on the five-kilometre course. The win not only put Mola in a tied position for most sprint distance victories in a career (with Jonathan Brownlee), but also pushed him to the position of most WTS sprint distance podiums in ITU history with eight.
Mola said of his performance, "It might be, I feel really good today. Since the beginning of the race I think I swam pretty good, was able to stay quite close to the front in order to avoid possible crashes, I just heard that Fernando (Alarza) crashed so I hope he is okay, but then I felt really good on the run so I haven't seen any times yet but I am very happy with the result."
"I am very happy when I am able to do a good swim and perform well. It does not always happen, unless you are one of those five or six guys you are going to be in a fight, but today I ended up successfully out of the fight and I am pleased with that."
For the second year in a row, the silver medal went to Aussie Jacob Birtwhistle, who similar to 2016 put forth a last second effort in the final metres to bypass the competition and get the second place. The bronze medal then went to Kiwi Ryan Sissons, who earned his first WTS podium of his career. With the silver and bronze going to Birtwhistle and Sissons, it became the first time that two elites from Oceania were on the WTS podium together since 2010.
2017 ITU World Triathlon Hamburg – Men's Results
Results: Elite Men
1. Mario Mola ESP 00:54:08
2. Jacob Birtwhistle AUS 00:54:20
3. Ryan Sissons NZL 00:54:23
4. Vincent Luis FRA 00:54:26
5. Javier Gomez Noya ESP 00:54:28
6. Dorian Coninx FRA 00:54:29
7. Richard Murray RSA 00:54:31
8. Léo Bergere FRA 00:54:36
9. Kristian Blummenfelt NOR 00:54:39
10. Joao Pereira POR 00:54:45