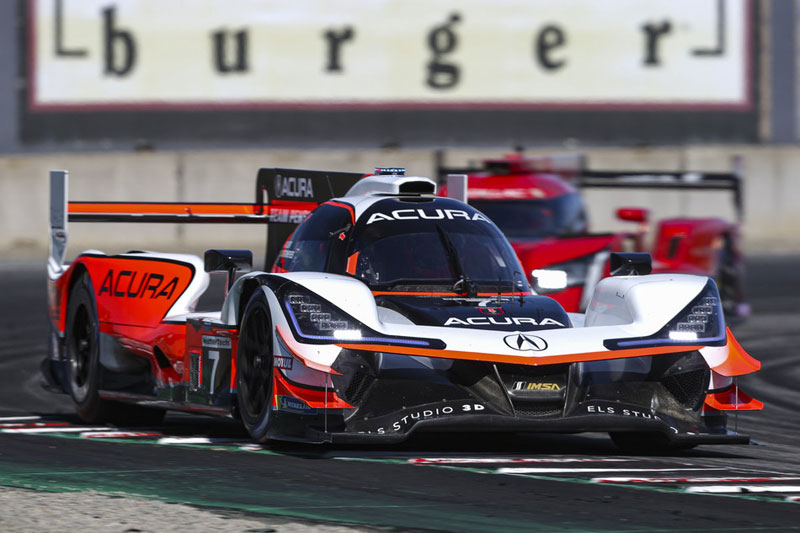 MONTEREY, California, September, 2019 – Acura Team Penske swept today's IMSA Monterey Grand Prix, dominating the two-hour, 40-minute contest at WeatherTech Raceway Laguna Seca as Dane Cameron and Juan Pablo Montoya scored their third victory of the season and a 1-2 result for Acura. The result unofficially clinches the Manufacturers' Championship for Acura, while Cameron and Montoya neared the drivers' title.
In GTD, Katherine Legge and co-driver Christina Nielsen led the Acura NSX GT3 Evo effort, finishing sixth for Heinricher/Meyer Shank Racing; while teammates Mario Farnbacher and Trent Hindman closed on the GTD Drivers' Championship following an eighth-place finish.
All championships will be formally decided in the season finale at Michelin Raceway Road Atlanta, October 10-12.
Acura Team Penske ARX-05
Starting from the pole, Ricky Taylor took the #7 Acura ARX-05 prototype to an early lead, with teammate Montoya close behind. Near the end of the first hour, the pair swapped positions in traffic, with Cameron now at the wheel of the #6 Acura Team Penske entry.
Except for pit stops, the #6 Acura led the rest of the way for the third win of the season for Cameron and Montoya, and their seventh consecutive podium finish. They now hold a 12-point lead in the DPi Drivers' Championship, and will secure the title with a finish of eighth or better at the season-ending Petit Le Mans 10-hour race in October.
With an eight-point lead in the Manufacturers' Championship, Acura will officially claim the title at the season finale next month.
After fending off a mid-race challenge from the Cadillac prototype of Jordan Taylor and Renger van der Zande, Ricky Taylor and co-driver Helio Castroneves came home second to complete the 1-2 finish for Acura, moving the pair to third in the drivers' title chase with one race remaining.
Meyer Shank Racing Acura NSX GT3 Evo
In GTD, Christina Nielsen and Katherine Legge ran as high as fifth in the competitive, production-based class, but faded in the closing laps as the handling deteriorated for both Meyer Shank Racing Acura NSX GT3 Evos at the end of the race. Legge lad the pair home with a sixth-place finish in her #57 Acura.
Teammates Mario Farnbacher and Trent Hindman fought the same issues, and finished eighth in GTD in the #86 NSX GT3. Still, the result was enough to all but clinch the GTD Drivers' Championship for the pair, as they leave WeatherTech Raceway Laguna Seca with a 32-point lead, with a maximum of 35 points available in the sole remaining race.