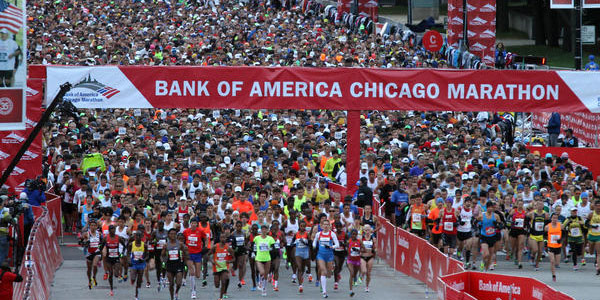 CHICAGO – The Bank of America Chicago Marathon continues to contribute to Chicago 's economy, with the 2016 race delivering an estimated $282 million in total business impact to the city. The findings come from the latest economic impact study reported today by Bank of America ahead of the 40th anniversary of the event on October 8, 2017.
Chicago Marathon Continues to Drive Tourism, Business and Job Growth
Providing more than a quarter of a billion dollars to Chicago for the fourth year in a row, the event remains an important economic driver for the city. Over the past 12 years, the economic impact of this world-class event has nearly tripled, generating $96 million in 2005 and rising to more than $282 million in 2016.
The independent study is conducted by University of Illinois at Urbana-Champaign 's Regional Economics Applications Laboratory. Study authors used the Chicago Region Econometric Input-Output Model to estimate the direct and indirect economic impact the marathon has on the local economy.
The latest report found the event directly contributed an estimated $115 million to the main sectors of the tourism industry, which includes lodging, entertainment and transportation, in addition to more than $167 million in indirect activity. This is an equivalent of 1,939 jobs and $95 million worth of wages and salary income. Each dollar spent by a race participant generated an additional $1.27 worth of activity distributed throughout Chicago.
"As we celebrate the 40th running of the Bank of America Chicago Marathon, we 're proud to be part of an event that continues to have an enormously positive economic benefit for the city of Chicago, " said Paul Lambert, Chicago market president, Bank of America. "Everyone associated with this iconic running event, including runners, spectators, residents, businesses and charity partners, feels the effects of the marathon across this great city in the heart of our communities, well beyond race weekend. "
The Bank of America Chicago Marathon had 41,608 race participants pick up packets in 2016, a 5 percent increase from 2015. Of those participants, 28 percent noted that they were visiting Chicago for the first time. Each year, the marathon attracts new visitors to Chicago and helps improve the image of the city as a leading tourist destination, while boosting local revenue.
"For 40 years, the Chicago Marathon has not only brought runners and fans from across the country and around the world to Chicago, it has brought the city of Chicago together to celebrate a truly tremendous sporting event, " Mayor Rahm Emanuel said. "I am appreciative of Bank of America 's continued support of the Chicago Marathon, a race which has a strong economic impact for Chicago and gives us another opportunity to share our renowned culture, entertainment, architecture and dining with visitors from across the globe. "
"As runners have raced through our city streets over the past 40 years, they have powered more than $1 billion into our local economy, " said Carey Pinkowski, Bank of America Chicago Marathon executive race director. "Taking on 26.2 miles is no small task, and the commitment and dedication of our participants, volunteers and corporate partners can be seen in the marathon 's outsized impact on our city and community. "
About Bank of America Chicago Marathon
In its 40th year, the Bank of America Chicago Marathon welcomes thousands of runners from more than 100 countries and all 50 states, including a world-class elite field, top regional and Masters runners, race veterans, debut marathoners and charity runners. The race 's iconic course takes runners through 29 vibrant neighborhoods on an architectural and cultural tour of Chicago. Annually, an estimated 1.7 million spectators line the streets cheering on more than 40,000 runners from the start line to the final stretch down Columbus Drive. As a result of the race 's national and international draw, the Chicago Marathon assists in raising millions of dollars for a variety of charitable causes while generating $282 million in annual economic impact to its host city. The 2017 Bank of America Chicago Marathon, a member of the Abbott World Marathon Majors, will start and finish in Grant Park beginning at 7:30 a.m. on Sunday, October 8. In advance of the race, a two-day Abbott Health & Fitness Expo will be held at McCormick Place Convention Center on Friday, October 6, and Saturday, October 7. For more information about the event and how to get involved, go to chicagomarathon.com.