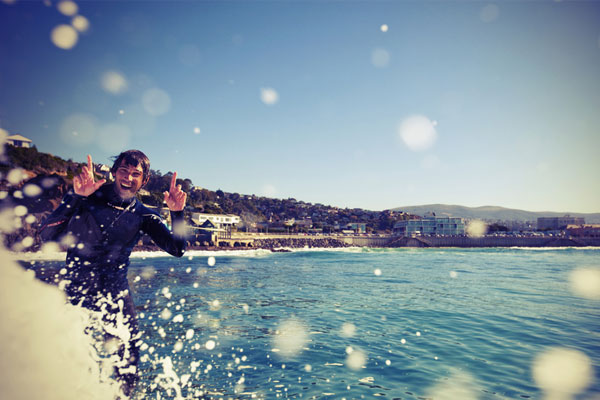 New Zealand's waves are set to put the world's ultimate water sportsmen to the test when the country plays host to the inaugural Ultimate Waterman multi-discipline surfing event in 2015.
Newest surfing event
The newest event in the surfing calendar will be hosted in Auckland – one of New Zealand's most accessible marine playgrounds, often referred to as the City of Sails – but those striving to be crowned the world's first Ultimate Waterman will be put to the test in some of the toughest all-round water conditions New Zealand has to offer.
The six discipline event, which includes shortboard surfing, longboard surfing, stand-up paddleboard (SUP) endurance and SUP surfing, waka-ama endurance and tow-in surfing, will see contestants follow the ebb and flow of the sea to find the perfect conditions for the chosen disciplines.
An island nation with over 6,000 kilometres of coastline, New Zealand's epic waves, world-class surf breaks and breathtaking landscapes provide the perfect platform for a surfing event of this calibre.
A stand-up paddleboard at Auckland's Takapuna Beach, complete with the backdrop of volcanic Rangitoto Island in the glistening Waitemata Harbour or big wave tow-in-surfing at the southern reaches of the South Island are just a few of the unique spots that the Ultimate Waterman may visit.
World's best
The invitation only event will be held in New Zealand over eight consecutive days from March 14 – 21, 2015 and has attracted some of the biggest waterman names in the world including New Zealand's Daniel Kereopa, international legends Kai Lenny (Hawaii), Manoa Drollet (Tahiti), Mark Visser (Australia) and Danny Ching (USA).
Three further competitors will be added over the next month, including two women, for what organisers says will be a participation, spectator and global broadcast sensation that will draw a huge local and international audience showcasing Auckland and New Zealand's varied and unique landscape to the world.
Event Director Greg Townsend says having the best being put to the challenge in New Zealand is a significant international coup and "all eyes will be on New Zealand to see the likes of Daniel, Kai and Mark battle it out."
"This unique, exciting event will drive water sport participation and create a powerful, lasting legacy for the whole country."
Massive global audience
It is expected that the event will reach over 50 million people via social media channels and deliver world-class content to a massive global audience. It will also provide an opportunity for Auckland and New Zealand to be at the focal point of international media.
Laird Hamilton from Hawaii is considered by many as the Ultimate Waterman and one of the most recognisable figures in world surfing. He is a pioneer of foil-boarding and stand up paddle surfing, is a legendary all-round waterman, fearless big wave charger and actor.
"The Ultimate Waterman is going to be humble and versatile, very complex person, with the capacity to do a huge array of disciplines and ultimately to be one of the greatest athletes in the world," says Hamilton.
Surfing New Zealand's The Ultimate Waterman event is a partnership involving the New Zealand Government, Auckland Tourism Events & Economic Development (ATEED) on behalf of Auckland Council and Red Bull.
Red Bull is a key component of this event as the international media partner, bringing production experience, global distribution capacity and an action sport perspective to the table.
Red Bull will create a half to one hour TV show about the event – to be screened internationally – where the Ultimate Waterman will be crowned, and will produce other content before, during and after the event that will generate significant national and global media coverage.
Townsend says The Ultimate Waterman will be a truly mobile event, with locations around New Zealand selected on the day for optimal weather, wind and swell conditions.
Using forecasting by meteorologists and local experts, event officials will be able to determine where the best conditions are for each discipline on any given day.
The Watermen, event and media crew will then drive or fly from Auckland to each selected discipline location, adopting a "guerrilla-like" approach with high intensity, flexibility and maneuverability.
The guerrilla-style nature of the event will make for great TV, with features that include a daily press conference to talk through the weather conditions and where the athletes will be heading next, the 'reality TV' type coverage of the travel and interaction between the athletes, stunning Auckland and New Zealand destination and lifestyle and the world class surfing footage itself.
The public will also have the opportunity to join the action, with mass participation events for national and international competitors taking place in the waka ama and stand up paddleboard disciplines at Takapuna Beach on March 14.
Central headquarters
The Waterman Central headquarters will be located at Mission Bay on Auckland's waterfront. This will be the epicentre for the event where daily media activity, athlete appearances and signing sessions will take place. It will also function as a logistics, planning and media centre.
Waterman Central will also host TUW expo, which will include sponsor activation, environment, culture and heritage displays, water safety education programmes, SUP lessons, live music, guest speakers, big screens, interactive activities and tourism destination information.