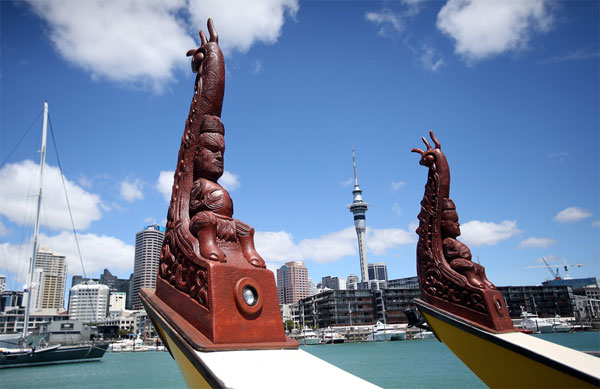 Auckland has launched into a sizzling summer that's set to become the region's biggest-ever events season with a spectacular celebration of its Pacific connections, Māori and maritime heritage.
The Waitemata Harbour was at its best yesterday (7.12.14) as a fleet of traditional ocean-going waka (double-hull canoes) sailed into the city – highlighting Auckland's sea-going heritage, multi-cultural origins and the spectacular coastal playground that will background many of the coming events.
Locals crowded the pohutukawa-fringed beach at Ōkahu Bay – on the city's eastern seaboard – to view the arrival of six impressive waka including two vessels that are part way through a four-year around-the-world voyage from Hawaii.
The visiting Hōkūle'a and Hikianalia waka form part of the Mālama Honu expedition organised by the Polynesian Voyaging Society (PVS). On hand to welcome the visitors were local waka – Haunui, Aotearoa One and Hinemoana, and Marumaru Atua from the Cook Islands.
Landing at Ōkahu Bay – a sacred landmark for Auckland's Māori – the crews were greeted by a traditional Māori pōwhiri (welcome) ceremony led by the resident Māori tribe Ngāti Whātua Ōrakei, before sailing into the downtown portside Wynyard Quarter.
The arrival of the fleet was a unique and special sight which attracted spectators from Auckland's strong and proud multicultural community, says Auckland Tourism, Events and Economic Development (ATEED) Chief Executive Brett O'Riley.
"Waka have been a significant part of Auckland's history and the city is known in te reo Māori as Tāmaki Herenga Waka: Tāmaki, a place where many waka converge − representative of the hundreds of canoes that could be seen on Auckland's harbours in the past."
Pasifika orgins
Welcoming the Polynesian Voyaging Society after a momentous journey across the seas and in to the Waitemata Harbour is fantastic for Auckland, says Auckland Mayor Len Brown. "We are proud of this multicultural city which reflects our unique Pasifika origins."
The theme for the PVS visit to New Zealand is 'Ngā Waka: A tribe returning home'. The two ocean-going waka – Hōkūle'a and Hikianalia – already have a strong connection with New Zealand. Hōkūle'a sailed to New Zealand in 1985 and Hikianalia was built in New Zealand and sailed back to Hawaii in 2012.
The Polynesian Voyaging Society (PVS) was founded in 1973 on a legacy of Pacific Ocean exploration, seeking to perpetuate the art and science of traditional Polynesian voyaging and the spirit of exploration through educational programmes.
The visiting waka will spend several months in Auckland and travelling from port to port to visit coastal communities and strengthen connections between the peoples of Hawaii and Aotearoa. They are due to embark on the next leg of their historic journey in mid-2015.
Auckland − Tāmaki Herenga Waka: Tāmaki
The creation of Auckland's unique landscape is part of an ancient Māori love story that brought about a fierce battle of incantations. The battle between two iwi (tribes) created deep cracks in the earth, thrusting upwards the many volcanic cones scattered across the region today.
The fertile soils left from this battle, combined with the abundant resources of the Waitemata and Manukau harbours, have drawn people to this region for centuries. It is for this reason that the Auckland region is known as Tāmaki Makaurau – Tāmaki, a place desired by many.
These same natural assets also attracted waka (canoes) from tribes across the country to trade with the people of the Auckland region. It is said that at times hundreds of canoes could be seen on Auckland's harbours, giving the region another name: Tāmaki Herenga Waka – Tāmaki, a place where many waka converge.
Events season
Summer 2014/2015 is anticipated to be the Auckland region's biggest-ever events season.
"Today's event is just the beginning for Auckland's non-stop summer, which has a bumper line up of arts, culture, music and sport events," Brett O'Riley said.
Highlight events on the calendar for Auckland will include: four international cricket matches during ICC CWC 2015, international tennis at ASB Classic and Heineken Open, Auckland Nines rugby league, sailing with Millennium Cup and Volvo Ocean race, the inaugural Ultimate Waterman surfing event, and the annual Lantern Festival.
ASB Classic – Auckland
05 – 10 January 2015
Sunshine, strawberries and a feast of great tennis – part of the WTA worldwide tour and New Zealand's richest women's international sporting event which will include tennis stars Caroline Wozniacki and Venus Williams.
Heineken Open – Auckland
12 – 17 January 2015
Live action and top ranked players from the men's tennis world.
New Zealand Millennium Cup
21 – 23 January 2015
The New Zealand Millennium Cup attracts some of the world's most prestigious super yachts, helping to showcase New Zealand's world-class boat building and refit industries.
Auckland Nines
31 January – 1 February 2015
The Dick Smith NRL Auckland Nines is a two-day, nine a side, knock-out tournament extravaganza showcasing the world's greatest Rugby League talent live in Auckland.
ICC Cricket World Cup 2015
14 February – 29 March 2015
Trans-Tasman rivalry will bring Eden Park to the boil when Australia and New Zealand square off on 28 February 2015. South Africa plays Pakistan on 7 March; Zimbabwe takes on reigning world champions India on 14 March; and 24 March will bring the first semi-final.
Lantern Festival – Auckland
26 February – 1 March 2015
Hundreds of colourful lanterns light up central Auckland's Albert Park in a family celebration of the Chinese New Year with entertainment, food and crafts. Auckland Lantern Festival is one of the city's most highly anticipated summer events.
Volvo Ocean Race, Auckland
27 February – 15 March 2015
Auckland – 'City of Sails' – has been hailed as one of the Volvo Ocean Race's most legendary stopovers. The Auckland leg of the Volvo Ocean Race will see the port, viaduct and Wynyard Quarter transformed into a hive of sailing activity leading up to the in-port race on 14 March.
Ultimate Waterman, Auckland
14 – 21 March 2015
Auckland will host the inaugural Ultimate Waterman – an eight-day multi-discipline surfing event that will play out in some of New Zealand's iconic surf destinations and featuring the world's biggest international watermen.