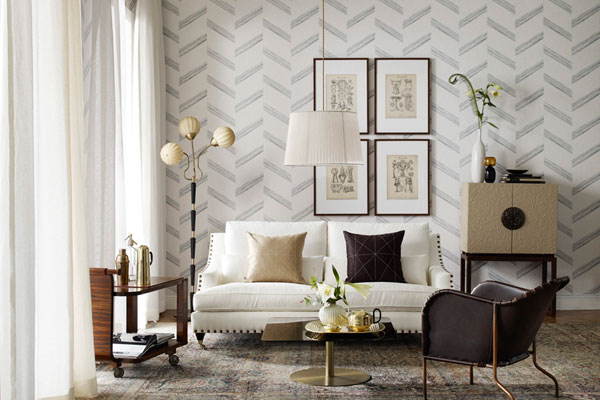 The Sandberg Studio has designed a captivating collection of decorative wallpapers, inspired by the Art Deco movement in Sweden, which was generally known as Swedish Grace.
The concept of Art Deco originated at the International Exhibition (Exposition Internationale des Arts Décoratifs et Industriels Modernes) held in Paris in 1925. The Swedish pavilion there was a resounding success and heralded a huge international breakthrough for Swedish design.
Then three years later, in 1928, the luxury liner M/S Kungsholm sailed on its maiden voyage from Gothenburg to New York. It was the epitome of elegance, a masterpiece of craftsmanship and design and its interior was so exquisite it was deemed one of the most beautiful ships in the world. Its décor was quintessential Art Deco: light, stylish and playful, inspired by ancient classicism mixed with an element of functionalism.
Design Director Sissa Sundling sums up the collection, which comprises nine non-woven wallpapers: 'In designing Grace, the Sandberg Studio derived inspiration from a wonderfully sumptuous and supremely elegant chapter in the history of Swedish design, retelling it with a modern twist. It is collection of wallpapers where luxury, flamboyance and understated chic mingle and flourish with great panache: it will work admirably in both traditional and contemporary interiors.'
Bacchus: A modern interpretation of classical themes, inspired by the leading Swedish artists of the 1920s, Carl Milles and Anna Petrus, who often drew on Greek and Roman mythology when creating their sculptures.
Filippa: a versatile, elegant wide stripe, based on wallpapers found in some of the staterooms on M/S Kumgsholm.
Grace: Grace's flamboyant feathered plumes evoke the heady decadence and excess of the Roaring Twenties.
Kungsholm: Inspired by a magnificent pattern found on the M/S Kungsholm, the luxury liner that epitomised the best of Swedish industrial arts and handicrafts.
Malinda: A typical sinuous Art Deco pattern that has been given a more contemporary look with watery colours.
Mauritz: Edward Hald, one of Sweden's greatest glass designers, made his international debut at the 1925 Paris Exhibition. Mauritz is inspired by one of Hald's perfectly executed glass engravings: a humorous depiction of monkeys swinging gracefully between palm trees.
Mimi: Homage to the decorative arts involved in furniture construction during the 1920s, Mimi's soft shapes are pleasing to the eye and versatile in an interior scheme.
Otto: An understated graphic motif, a check derived from the 1920s, which nonetheless has an ultra modern feel.
René: a large, elegant design bearing the typical hallmarks of an Art Deco motif, simple in its graphics but intricate overall.
Grace is enhanced by its range of suitably muted shades, such a gentle greys, pale sand and honeyed stone, seaglass and shell pink mixed with dramatic blacks and golds.
The Grace wallpapers have been designed in-house by the Sandberg Studio. They are responsibly printed at Sandberg's factory at Ulricehamn in the west of Sweden. The printing inks and pigments are water-based, non-toxic and harmless, and no detergents, plasticisers or PVC have been used in the manufacturing process.