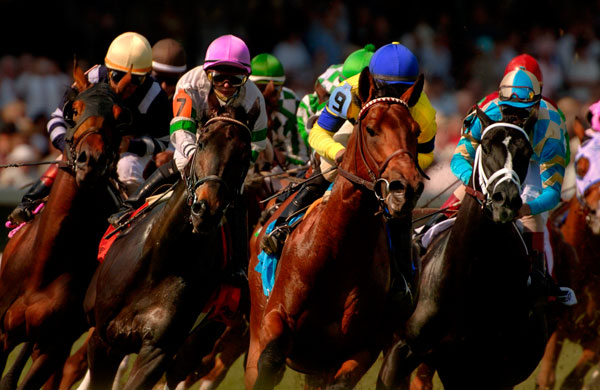 It was another record year for the 2014 Kentucky Derby Festival Foundation Charity Module Program.  32 different charitable organizations raised funds by having individual runners and running teams participate in the Kentucky Derby Festival Marathon and miniMarathon presented by Walmart and HumanaVitality on April 19. 
Record Funds for Charity
That's the largest number of charities who have participated in the program since its inception in 2005.  The runners raised over $250,000.  Overall, the program has helped raise over $1.75 million for charities around the region in the past 10 years.
Hope Scarves, a Louisville charity created to capture the stories of courageous women who have battled cancer, will also be recognized as the "Charity of Year" for this year's program.  The "Charity of the Year" is determined by the best charity to administer the program through recruitment, retention and fundraising.  2014 was the first year Hope Scarves participated in the program.  They raised $28,400, which is the most raised by any local charity in their first year of the program.
The following organizations were Official Charity Partners of the 2014 KDF road races: American Cancer Society, American Lung Association, American Printing House for the Blind, Children's Hospital Foundation, DanceBlue, Dare to Care Food Bank, Deion Branch Foundation, ElderServe, Gilda's Club, Hand in Hand Ministries, Harbor House of Louisville, Home of the Innocents, Hope Scarves, House of Ruth, James Graham Brown Cancer Center, Juvenile Diabetes Research Foundation, Kentucky and Southern Indiana Stroke Association, Kentucky Animal Relief Fund, Kentucky Hemophilia Foundation, Kids Center for Pediatric Therapies, Leukemia & Lymphoma Society, Louisville Children's Museum, Lung Cancer Alliance, The Molly Johnson Foundation, The Morton Center, Orphan Care Alliance, Ovarian Awareness of Kentucky, Ronald McDonald House Charities, Seven Counties Services, St. Jude Heroes, The V Foundation for Cancer Research, and USA Cares.
The charities were assisted by the Kentucky Derby Festival Foundation, the Derby Festival's charitable arm. The KDF Foundation established criteria for organizations to be recognized as Official Charity Partners of the races and Foundation board members and volunteers were assigned as liaisons to help coordinate the fund-raising efforts.
The Kentucky Derby Festival Foundation, a 501 C 3 not-for- profit charity, receives and manages charitable contributions on behalf of the Kentucky Derby Festival, Inc., its supporters and the general public. The Foundation perpetuates the Festival's impact on the community by developing projects that highlight the Festival's influence on the area's cultural heritage.  It works to further the Festival's educational and charitable mission through exhibitions and performances.