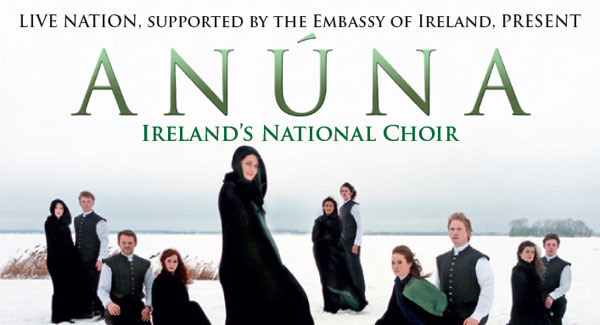 Ireland's national choir, Anúna, is coming to Finland this March for one night only. This internationally renowned a cappella choir is performing at the unique and beautiful Temppeliaukion kirkko on Friday 15 March. Tickets go on sale on Monday 4 February through the Lippupalvelu ticket service.
Anúna's concerts feature a compelling combination of movement, elegant costume, candles and ethereal and haunting music sung in the choir's own unique way. The choir consists of twelve members and the quality and depth of the singing and lyrics mean they do not need the support of instruments. The group have created a unique voice for Ireland and are widely accoladed for the originality of their performances and the natural quality of their singers.
Founded in 1987 by Dublin composer Michael McGlynn, Anúna's material includes reconstructions of early and medieval Irish music. Their ability to slip easily between musical genres has allowed them to collaborate with a diverse variety of notable performers. Anúna were featured artists with the phenomenally successful Riverdance and have also worked with The Chieftains. Anúna features on the Grammy award winning albums for both groups.
Anúna's performance will mark the start of Helsinki's St Patrick's Day celebrations. It will also showcase Ireland's globally recognised musical tradition during Ireland's current Presidency of the Council of the European Union.
The unique venue of Temppeliaukion kirkko, well known for its excellent acoustics, beautiful surroundings and intimate atmosphere, provides the perfect setting for this choral performance.
This concert is taking place in cooperation with the Embassy of Ireland.
"Anúna is legitimate folklore that weaves religious and secular threads into an enchanting sonic tapestry…" Billboard
"With Anúna, the worlds of choral, classical and traditional music intersect with ease, a place where heaven meets the horizon in perfect coalescence" Hot Press
CONCERT:
Anúna – Ireland's National Choir
Fri 15/03/2013 at 19:30 Helsinki, Temppeliaukion Church
TICKETS:
Tickets will be on sale on Mon 04/02/2013 at 9 am
The price of the tickets including shipping from 40.50 per ticket service outlets, phone service 0600-10-800 (1.96 euros / min + local call charge) and 0600-10-020 (6.79 EUR / call + local call charge) and online www.lippupalvelu.fi
Note: unnumbered seats!
ADDITIONAL INFORMATION:
The concert organizer: Live Nation UK
– Promoter: Johan Hollsten
– Information: Maritta Kettunen, tel: 09 856 73 453, maritta.kettunen @ livenation.fi
– Press photos and media accreditations: http://press.livenation.fi
www.anuna.ie
www.livenation.fi