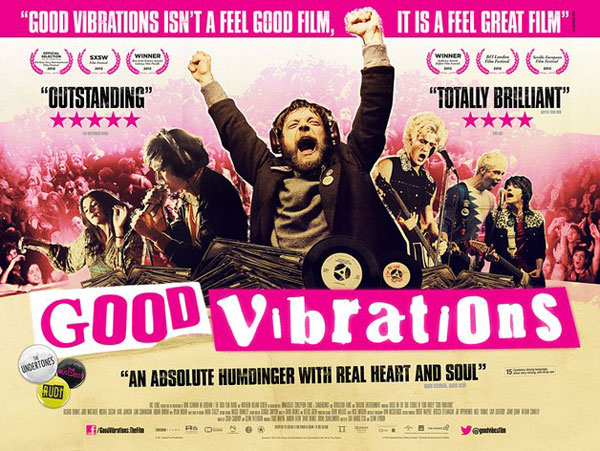 Plenty of Irish Happenings in Finland during the month of April with Helsinki Harps GAA training starting up to Weekly Irish Dancing taking place. A part of Ireland in Suomi.
3 April at 6pm – Helsinki Harps GAA
Helsinki Harps GAA first training session of the year takes place on Thursday, 3 April at Talin Urheilupuisto, Purotie from 6-7pm. This training session is for everyone; beginner/advanced, old/young, male/female! Everyone is welcome! Buses 14, 39, 54, 59, 231, 247, 248, 270 and 550 pass the sports ground. Hope to see you there! For more information see: Helsinki Harps GAA
10 April 2014 at 7.45pm – Irish Film "Good Vibrations"
Irish Film "Good Vibrations" will be screened as part of the European Film Weeks in Eurooppasali, Malminkatu 16, Helsinki. The event is free of charge and tickets for each screening will be available 1 hour in advance. Doors to Eurooppasali will be opened 15 minutes before the screenings. Welcome!
For more information see: European Film Weeks Helsinki
10 April at 10.25pm – President Higgins' State Visit to Britain
As part of President Higgins' State Visit to Britain, a concert "Ceiliúradh" (Celebration) will be held in the Royal Albert Hall on 10 April and will be attended by President and Sabina Higgins and HRH Prince and Princess Michael of Kent. The event will be streamed live on RTÉ Player from 10:25pm Finnish time. RTE 1 will broadcast the concert later that night (at 12.15am Finnish time) and this programme will subsequently be available internationally on the RTE Player. The concert will also be broadcast live on RTE Radio 1 (including on-line).
12 April at 2pm – Finnish-Irish Society
As part of the Finnish-Irish Society's 60th anniversary celebrations, and to mark the millennium anniversary of the Battle of Clontarf, the society has arranged a battle re-enactment in Lähtinen Pukkisaari (beside the bridge to Seurasaari Open Air Museum) on 12 April at 2pm. Live, Irish music will follow the battle. This event is ideal for families, is open to everyone, and admission is free! You can get there with bus 24 and the park is a short walk from the last stop. For more information see: Finnish-Irish Society
24 April at 12pm – Helsinki Irish Studies Seminar Series
The Helsinki Irish Studies Seminar Series continues on 24 April when Jyrki Vainonen (Author, Board of the Union of Finnish Writers) will give a presentation; Reading the Worlds: Some Thoughts on Translating Irish Poetry into Finnish, in the Department of World Cultures, Unioninkatu 38A, Russian Room. Your participation would be greatly appreciated. For more information see: Helsinki Irish Studies Seminar
3 May – "Wild Geese" Golf Day
Following on from the success of last year's "Wild Geese" inaugural golf day held at Paloheina the first event of 2014 will be held at Kullo Golf Club on 3 May.
30 flight (tee) times have been reserved. Green Fee costs are €55. Food afterwards, course guide, range, trolley, towel and sauna all included in the fee.
If you would like to play, please contact John Regan (johnanthonyregan@gmail.com) to reserve a place.
5 May at 7pm – Pianist Patrick O'Byrne
Irish-New Zealand pianist Patrick O'Byrne will perform in the Concert Hall of the Sibelius Academy, Pohjoinen Rautatiekatu 9 on 5 May. Admission is free. For more information see: Sibelius Academy
6 May – Irish-Finnish Peacekeeping Exhibition
Irish-Finnish Peacekeeping Exhibition, Tampere Peace Research Institute (TAPRI). More details to follow.
Weekly Irish Dancing practice (Wednesdays and Fridays) – see link below for more details or contact Valentina for more information: 041 724 01 88.
Helsinki Greenlights: Irish Dancing Helsinki