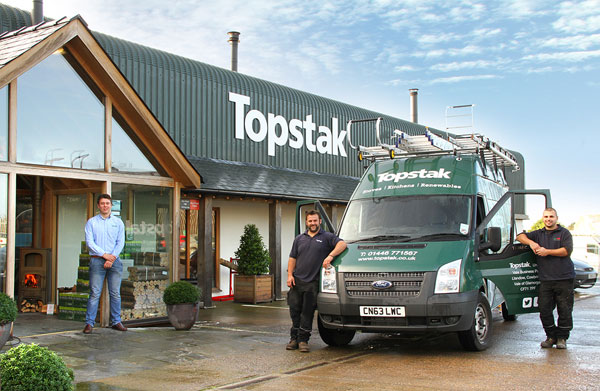 Thanks to a rapidly growing interest in renewables, Topstak – Vale of Glamorgan based specialists in renewable energy solutions, wood burning stoves and kitchens – has added three members to its renewables and stove installation team.
Matthew Young becomes operations manager for the renewables and stove element of Topstak's business, adding to the recent appointment of Barrie Roberts as renewable energy manager.
Luke Adams and Damian Bamford add to the hands-on element of the renewables and stove installation business, and have just been awarded HETAS registration.
An increased interest in renewables has been generated because of the domestic renewable heat incentive (RHI), destined for implementation in spring 2014.
"The government is introducing the scheme to provide longer term financial support to households for the installation of renewable heating technologies, and is likely to lead to a surge in interest in the so-called green technologies, in the way that the solar PV feed-in tariff created interest a few years ago," explains Topstak director, Adam Pedersen.
"The latest tariffs are very generous, for instance, the feed-in tariff is 12.2p per kWh for log gassification, wood chip and pellet boilers. Topstak is a MCS registered company so we can help our customers access this support for their installations"
Topstak covers a broad base of renewable energy systems, from solar PV and solar thermal, to bio-mass boilers.
The company is already well established as a market leader in the wood burning and multi-fuel stove market, stocking a wide range of stoves at its new showroom on the Vale Business Park near Cowbridge.
Supply and installation of upmarket hand made kitchens and accessories, has broadened the business' interests.
"We have found that providing a one-stop shop under one roof is very popular with customers," says Mr. Pedersen.