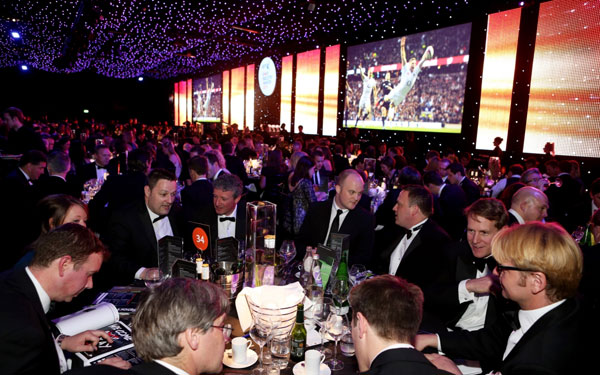 The Sport Industry Group is delighted to announce the Official Shortlist for the BT Sport Industry Awards 2014, with the winners to be announced at the star-studded BT Sport Industry Awards ceremony in London on Thursday 8th May.
15 sports are represented on the shortlist by a host of brands, teams, agencies and organisations collectively responsible for the finest commercial performance that British sport has had to offer over the past 12 months.
Sport Industry Awards 2014 Shortlist
Last year's Premier League champions Manchester United are amongst the high-profile brands shortlisted for the coveted prize of Brand of the Year, sponsored by Pinsent Masons, along with adidas, The Championships at Wimbledon, and the UEFA Champions League. United are one of a number of leading football clubs on the shortlist alongside Liverpool, Chelsea, Everton, Tottenham Hotspur, Newcastle United and QPR, but the shortlist also includes projects and campaigns from American football, athletics, basketball, boxing, cricket, cycling, golf, horseracing, motorsport, netball, rugby league, rugby union, tennis and triathlon.
"Some predicted a slump in the market following London 2012, but seeing major global brands such as Microsoft and SAP on the Official Shortlist for the very first time is proof of what an exciting time this is for the UK sport industry," commented Nick Keller, Chairman of the Sport Industry Group.  "It has been a transformative year for British sport from a media, marketing and sponsorship perspective, and the wide range of sports on the shortlist is also testament to the strength in depth of the industry. The standard and volume of work entered to the BT Sport Industry Awards this year means being named on this shortlist is an absolutely stellar achievement."
The Official Shortlist was selected through an extensive Steering Process involving 50 key industry figures and more than 60 hours of intensive judging, fully overseen by Deloitte, the Official Independent Scrutineers of the BT Sport Industry Awards. The Official Shortlist will now go forward for consideration by the main Judging Panel, who will decide the winners in each category. Made up of leaders from across the sport industry and the wider business world, each Judge brings to bear years of expertise in a particular field, as well as their wider industry perspective. More information on the Judging Panel and the overall judging process can be found at www.sportindustry.biz.
John Petter, CEO, BT Consumer commented: "Sport has always played a huge part in British society and has particular importance for BT – from our sponsorship of the London 2012 Olympic and Paralympic Games through to the launch of BT Sport. We're delighted to be celebrating and supporting the successes of the British sport industry."
BT are the Headline Partners of the BT Sport Industry Awards. The Official Partners of the BT Sport Industry Awards are Barclays, Deloitte and Eurosport.