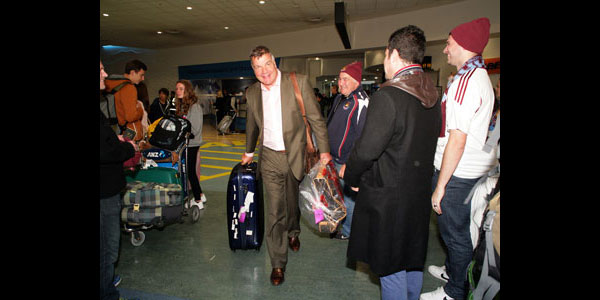 English Premier League team West Ham United received a warm New Zealand welcome today (19.07.2014) when they arrived in the country for the Football United Tour 2014.
The team were greeted by some loyal New Zealand fans as they exited the arrivals terminal at Auckland International Airport, before the travelling squad, manager Sam Allardyce and backroom staff where treated to a more traditional Kiwi welcome in the form of a Māori Powhiri beneath the Auckland Sky Tower, an iconic city landmark.
The customary Māori greeting proved to be emotional for one player in particular, with West Ham defender Winston Reid – who was born in Auckland – wiping away the tears.
The pōwhiri or pōhiri, is a ceremony of welcoming involving speeches, dancing, singing and hongi and is central part of Māori protocol. The pōwhiri itself signifies two groups coming together, negotiating the terms of their engagement and finishing with guests joining their hosts as one.
And although Reid – the only New Zealand player in the Premier League of Māori decent – was obviously feeling sentimental about arriving home, West Ham manager Sam Allardyce expressed his delight at coming to New Zealand for the first time, telling reporters he was looking forward to experiencing the best of what the country has to offer.
After the press conference, which included club captain Kevin Nolan, Winston Reid and striker Andy Carroll, the boys enjoyed for a late afternoon walk around Auckland, New Zealand's biggest city.