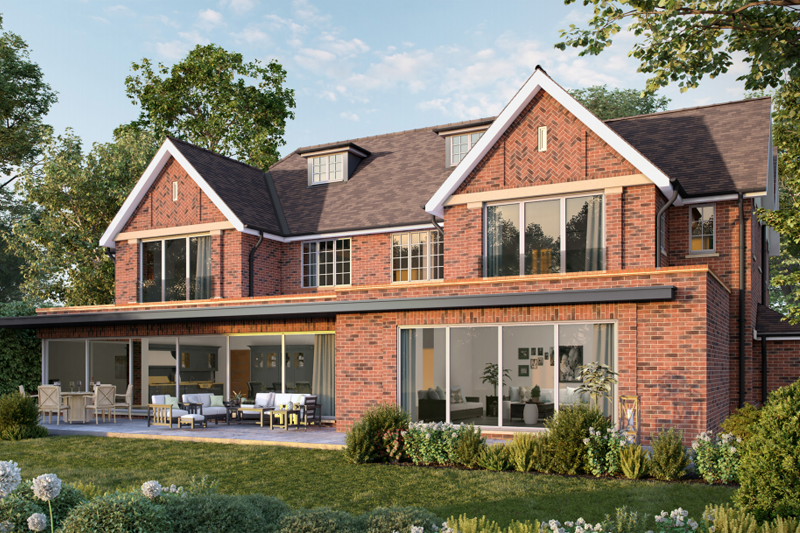 It's not just Sarah Beeny who has swapped London for the country life. Land Registry data shows a 42% drop in transactions across London in the first six months of 2020, when compared to the previous six months.
City Folk Push for Country Lifestyle
With home working suddenly available to so many more workers, homebuyers are no longer bound to a property near their office in the way that they used to be. They can instead opt for the fresh air and space of a country home, away from the hubbub and increased potential for COVID-19 infection that city life provides.
For those thinking of swapping city life for a more rural existence in 2021, the team at luxury design and build company Oakbridge Bespoke has plenty of advice. Head of Design Michael Clifton has spent the past 14 years designing and supporting clients to build their dream properties in the Home Counties – experience which has now seen a surge in demand as Londoners leave the city lights in their collective rear-view mirror.
"We're finding a number of clients have dramatically altered what they want from a home as a direct result of the pandemic. Reconnecting with nature, building a flexible home and enjoying more space both indoors and out are going to be the key trends in 2021."
Michael Clifton, Head of Design, Oakbridge Bespoke
But building a contemporary country pile isn't simply a case of buying a field and having the diggers roll in. As such, Oakbridge Bespoke has provided seven top tips to help families face the planning process head on in 2021.
Find the correct plot
Not only is the plot itself important, but the street scene and area also need to be taken into consideration. Bear in mind that conservation areas are less likely to allow contemporary design, so a plot elsewhere might give you more flexibility. Consulting with a service such as Oakbridge Bespoke prior to purchasing can ensure the plot is right for what you want to achieve.
Create the best professional team
Finding a competent team is important but designing your own home is a highly personal project. You need a team around you who understand your motivations and vision and who provide the competence and experience you need. You'll be working with your team for a year, possibly even two, so make sure you have the right people around you from the outset.
"Building the right team doesn't just mean hiring a designer that you like. It also extends to ecologists and arboriculturists, and a planning consultant. Engaging all these professionals is essential to ensuring that you are putting forward all the information the planning department will need. It also means you can fully understand the cost of your project before submitting the plans. This is one major benefit of using a design and build company, rather than having to coordinate all of the different key players yourself."
Michael Clifton, Head of Design, Oakbridge Bespoke
Focus on quality
Give your design the best chance to shine in front of the planners by ensuring you deliver a high-quality presentation. Poor quality designs that haven't been thought out may worry the planners about what the end result could be.
Allow time and patience
If you want the best possible outcome, you'll need to allow your professional team to do their best work. That takes time. Remember that planning is also a waiting game, so it's time to drum up all the endurance you have!
Don't give up
If you're not granted planning permission, don't give up. Review the plans with your professional team again and discuss your options. It's not the end of the road, just time for a review and rethink.
Undertake a post-approval review
So, you've got planning permission. Congratulations! But that doesn't mean you can't still review your project and make tweaks. In fact, a post-approval review is a great time to consider any final layout changes before moving on to the next stage of the design and build process.
Prepare, prepare, prepare!
Once you've been granted planning permission, it's time to initiate the next discussions to being your project's pre-construction stages. There are lots of choices to be made for your new home, from tiles and lighting to door handles and many more internal finishes. A design and build team will help you manage these choices and select the best finishes within your desired budget.
"Receiving planning permission triggers a whirlwind of decision-making. It's important to take an orderly approach to this and to keep a close eye on the budget while making decisions about internal finishes. Having a design and build team on board can make a big difference at this stage, both in terms of controlling costs and of the overall look and feel of the home."
Michael Clifton, Head of Design, Oakbridge Bespoke
The planning process is not without its challenges, but with plenty of vision and perseverance – and professional support – it can result in a home that a family will enjoy for years to come.