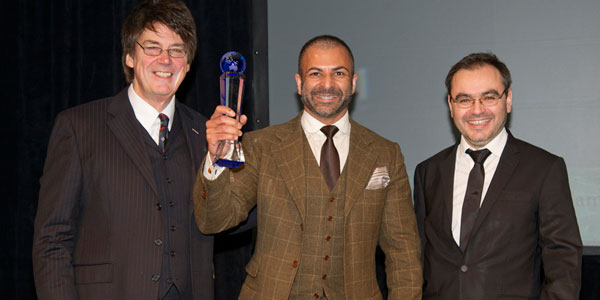 Fameed Khalique (UK) picked up the Product Award in the Residential Sector of the prestigious SBID International Design Awards 2013.
The award recognises the very best in new products for the home.
The London based company won for LcD, a contemporary textile collection where natural, metallic and industrial materials are woven together with artisan skill. The collection was designed by Luc Druez.
Fameed Khalique, Managing Director, said: "I am delighted that the LcD Collection has won the Residential Product Category. The collection of fabrics is truly unique and we are pleased that the innovation and design of the collection has been recognised and applauded by our peers after being shortlisted by the highly-respected judging panel. Luc Druez, the designer behind the collection, is honoured to be recognised."
All the winners in the SBID International Design Awards 2013 were revealed at a glittering ceremony at The Dorchester hotel, London, on Friday, 29 November.
The awards, now in its third year, attracted entries from interior design companies across the globe.
Vanessa Brady, President of SBID, said: "The SBID Awards are now firmly established as a key event in the global interior design calendar. This year we had more than 300 entries from creative professionals and companies around the world; a record. The task for the judges was difficult, but it was inspiring to see such talent and creativity."
The 14 SBID International Design Award 2013 categories are split between Residential and Contract sectors. All the winners received a beautiful SBID International Award trophy, commissioned from the Czech company Sans Souci Glass Deco.
The interior design projects from the winners, and the short-listed finalists, are featured in The SBID International Design Excellence Awards Book 2013.