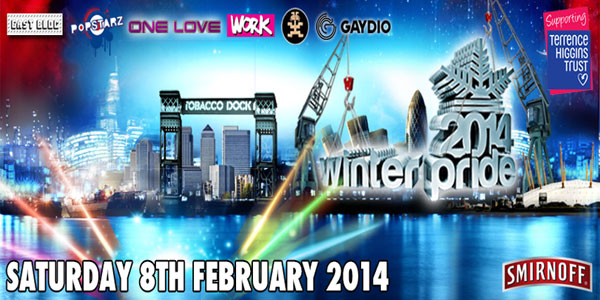 Britain has come along way since the first gay marches in the 1970s, with Parliament recently approving legislation to introduce same-sex marriage and now the Winter Pride UK planned for London.
To celebrate this momentous occasion, and to particularly highlight the enormous contribution the LGBT community makes to the UK's cultural and creative industries, L-Wired are creating the first ever Winter Pride UK at London's Tobacco Dock on 8th February 2014. The event will feature a new art competition, the Winter Pride Art Awards, in addition to giving recognition to other achievements in the LGBT community through the Winter Pride UK Awards, all while bringing together the biggest LGBT club brands and international DJs to create a party like no other.
Stephen Fry, who has been nominated in the LGBT Luminary of the Year of the Awards category, said: "I am thrilled to be nominated as LGBT Luminary of the Year for Winter Pride UK. Artistic and cultural events of this kind are so important for the well being of the LGBT community".
Created for the Lesbian, Gay, Bisexual, Transgender (LGBT) community, and made possible with sponsorship from Smirnoff, Winter Pride UK also demonstrates a commitment to the wider LGBT community, with fundraising campaigns for the Terrence Higgins Trust and Stonewall at its heart.
Kiera Ridge, Community Fundraising Manager at Terrence Higgins Trust, said: "We're delighted that Winder Pride has chosen our charity to benefit from their inaugural event. This kind of community event is vital, not only for raising funds but also creating a great opportunity for the LGBT community to come together and celebrate. We couldn't be more grateful for their support."
The Winter Pride UK party will include an exhibition of international artists and a new art competition, the Winter Pride Art Awards, showcasing a spectrum of artistic practice from emerging and established artists. The judging panel consists of arts and media professionals Frances Segelman – Sculptress to HM The Queen; Helena Zedig – Deputy Head of Press at Southbank Centre; Clive Jennings – Director of National Print Gallery and Director of CHART gallery, Sam Walker – Artist, Curator and Director of CHART gallery and Simon Tarrant – Artist, Curator and Director of Winter Pride Art Awards.
Frances Segelman, sculptress and Winter Pride Art Awards Judge, said:
"I am so pleased to be judging the inaugural Winter Pride Art Awards 2014, which represents an important opportunity for emerging artists to showcase their artworks".
Submissions are now open for the Winter Pride Art Awards via the Winter Pride UK website winterprideuk.com (entry deadline: 19 January). A preview exhibition of the shortlisted Finalists will take place at CHART gallery in Chelsea from 3-5 February 2014, followed by a display at Tobacco Dock in East London on the 8th of February when the winner and runners up will be announced.
Winter Pride UK Awards
In addition, the Winter Pride UK Awards, hosted by renowned DJ, producer, and celebrity Jodie Harsh, will present a further 13 awards reflecting the range of the LGBT community and the straight allies who support it, including LGBT Luminary of the Year, Best LGBT Content in Film and Television – nominated by the programmers of BFI London Lesbian and Gay Film Festival and Personality of the Year. Many famous faces appear across the awards – Sir Ian McKellen, Stephen Fry, Clare Balding, Gareth Thomas, Nicola Adams, Heather Peace, Angel Haze, and Daniel Radcliffe.
Voting is now open for the Winter Pride UK Awards! The Winter Pride UK Awards recognises fantastic achievement in the LGBT community. Voters have until the 24th January to vote for their favourite nominee at winterprideuk.com. The award winners will be announced at the Winter Pride Awards Ceremony on 8th February at Tobacco Dock.